The mighty King Ortler sits enthroned, reigning over all in the southwest of the land and also the
Val Venosta
, buttressed by the famous Ötztal Alps with the Similaun and Weisskugel peaks in the north, and soothed by green pastures in every direction. Mixed woodlands, chestnut groves and extensive winter rye fields provide the valley with its alternating scenery, which largely features green meadows on high, with innumerable fruit orchards down below. The mountain lakes of the Val Venosta offer Alpine refreshment, especially the Reschensee Lake, as well as the Haidersee, Zirmtalsee and Kortscher See lakes. South Tyrol's longest river, the Etsch, runs through the Val Venosta, providing fertile soils and green landscapes.
The high spot of the Val Venosta's natural world is undoubtedly the
Stilfserjoch National Park
, whose 130,000 hectares cover a wide range of altitudes and thus contain equally varied flora and fauna. Nature lovers and amateur geologists will appreciate the mica slate on the Tartscher Bichl, not to mention the steppe vegetation on the
Sonnenberg mountain
, where ground temperatures can vary up to 50°C between day and night. Species diversity can be observed in the Tschenglser Au nature reserve with its birds, bats, foxes, field hares and beech martens. Whether expert or layman, the nature of the Val Venosta varies in so many ways and repays looking, feeling, hearing ...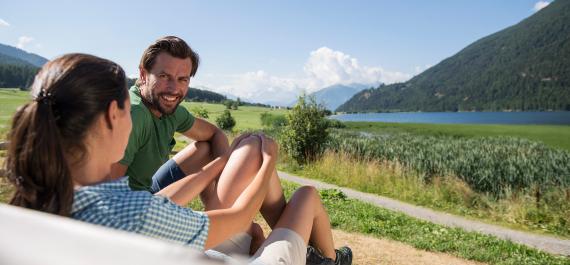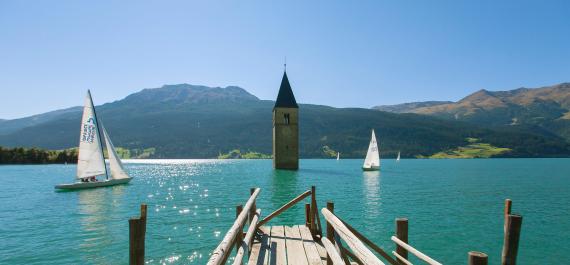 The natural highlights of the Val Venosta
the Ortler, South Tyrol's highest mountain, towers over the Val Venosta
the Stilfserjoch National Park, probably South Tyrol's most beautiful nature park
steppe vegetation on the Sonnenberg mountain
marshland at the Tschenglser Au
mica slate on the Tartscher Bichl
a church spire protrudes from a bright blue mountain lake at the head of the Val Venosta